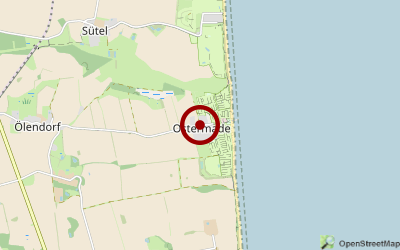 Open from-to: 01.April bis 30.September
Comparison price: 19,00 Euro ( price per night with car, caravan und 2 adults and 1 child in the main season incl. all costs. )
Views (Last 30 days): 8
Description:
Tent-caravan and motorhome holiday
We offer a quiet and idyllic place to relax.

The child-friendly campsite on the beach!

No tourist tax, free children's entertainment, ......

Our place should the seal of approval
"Bear ECOCAMPING Schleswig-Holstein".
An award for our successful work in recent years in Umweltmangament and work safety!

The excellent camping!

The camp High bank has a Wi-Fi Hotspot from LAN1
Surrounding:
The campsite is situated on the banks of High wide Baltic Sea beach, surrounded by an idyllic agricultural setting. On one side of endless fields, on the other side of the beautiful Baltic Sea with its seven miles of fine sandy beach. Here you can hear only the faint sound of the waves. Rest on our place is unique.
Route:
You take the A1 / E47 past - Hamburg - Lübeck - Oldenburg / Holstein. Oldenburg has three exits. South (11) / Center (10) / North (9) pass at all !!!!! They used now exit Jahnshof - Neukirchen. (Exit 8) At the end of the exit you go right direction now Neukirchen. By Neuseegalendorf - Meeschendorf - Georgshof. Along meadows and fields ... ... Then drive through by Neukirchen. (Always stay on the main road!) Now you get to a crossroads - crossed by the B501 This cross and go straight approximately 800meter. Then turn right across the railroad tracks. Ca. 50 meters behind the railroad tracks turn left. (Follow the sign: Beach and camping) Now this road until after Ostermade (approx. 2 Km) Later on the horizon you will see already the Baltic Sea - It's not far away - Now only a few meters to the end of the road the dead end. On the right you will see the white-blue entrance portal High banks of the campsite and the barriers and barriers. The leave can begin ... ...
dimension
size: 12 ha brutto
Places: 540

Sanitary:
sink unit (cold)
Shower (warm)
sink unit (hot)
Wash basin (warm&cold)
wheelchair-accessible
Wash basin (cold)
Toilet
Washing machine
Wastewater for camper
Shower (cold)
Shopping & Restaurants:
Snack Bar
supermarket (small)
Restaurant / Bar
Sports, Gaming & Fitness:
Football
childrens playground
Minigolf
Table tennis
Volleyball
windsurfing & sailing
Bike rental
Surrounding:
directly on the beach/sea
soft soil/floor
grass soil/floor
centrally located
subdivided campsites
quietly situated
sandy beach
shadowy campsites
sunny campsites
General:
dogs allowed (additional charge)
Internet access
pay phone
Public phone
lighted lanes and streets
WLAN-Internet
Campground guarded
permanent camping
Camping guides:
ECOCAMPING
ACSI
ECC
ADAC-Campingguide
Campingcard ACSI
DCC e.V.

Download Information